We tried to answer as many commonly asked questions as possible; however, if you have a question not addressed below send us an e-mail or give us a call at 585.217.7510.
Do we need to pay for copyrights in order to print our photos?
A reprint permission letter is included with your wedding photography package allowing you to legally print your wedding photographs at any lab you choose. While I do not recommend using online, consumer photographic lab services to print your wedding photos, you certainly are free to go this route if you prefer.
Do you require a deposit or contract?
A signed contract and deposit equal to 50% of the total wedding photography package price is required to book your wedding day.
What happens if it rains (inclement weather)?
You'll get wet. But, you'll still have excellent photographs playing in the rain. It's been said that rain on a wedding day is good luck! Let's make lemonade out of lemons. We can view rain as an impediment, or as an opportunity to create some truly memorable photos!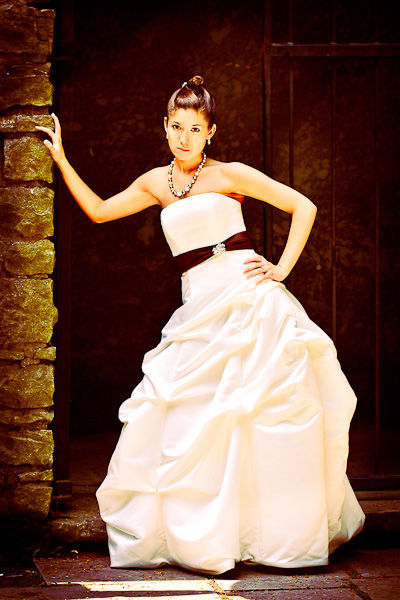 Do you back up the wedding photos?
You can feel rest assured that every effort will be made to safe-guard your wedding photographs. Digital negative are backed up both during your wedding, on-site using a portable hard-drive, and after your wedding on optical discs which are then stored off-site in a safe deposit box.
What if you get sick?
In the event of severe sickness or injury that would prevent me from photographing your wedding, I would be contractually obligated to ensure an equally professional and competent photographer was available to photograph your wedding. That's a pretty strong statement and $2M liability insurance policy ensures that promise is fulfilled.
Do you offer military discounts?
Yes, a 10% discount is available to brides and grooms who are active duty, have served in the United States military, or are part of military reserves, regardless of branch or division.
How many days will it take to receive our digital proofs and finished photographs?
Digital proofs will usually be made available within ten business days of your wedding day. The average time to receive your finished image disc with all your retouched photographs is about 30 days.
What happens if your equipment breaks? Do you have backups?
My philosophy over the years has been, it's better to have it and not need it, than to need it and not have it. Therefore, I bring two of everything: two cameras, multiple lenses, flashes, batteries, and memory cards. And, digital negatives are backed-up on site.